In my opinion, Istanbul is a must visit for every traveler. As you walk on the streets of Istanbul you will hear pop music blasting through the speakers while the call to prayer is being echoed in the background. It is the city where the West meets the East, physically and metaphorically. In addition, there is so much to see and do that it leaves some of you wondering, " How many days should I spend in Istanbul?" For some travelers 3 days in Istanbul is enough, I spent 7 days during my trip and there was still so much to see. Regardless, of how long you stay, I have curated an Istanbul Itinerary to guide you.  The best part is that most of the activities I included were recommended by locals.
p.s:  (*) Signifies places I actually visited
Day 1- 3 Istanbul Itinerary
Eat
Privato Cafe (Breakfast)*
Tarihi Kuru Fasulyeci Beydağı Lokantasi (Lunch)*
Sütis Abdullah Aga Yalisi (Dinner/Snack)*
Try Simit (Snack)*
Price: $
You can find this street food anywhere in Istanbul. It's more of a breakfast snack and can be eaten with anything.
Aga Kapisi (Breakfast/Dinner)*
Çikolata Kahve (Breakfast/Dinner)*
Durumzade (Lunch)
Baylan Patisserie (Breakfast/Dinner)
Ficcin (Dinner)
See
Galata Tower*
This tower is hard to miss once you are in the center of Istanbul. I used it as a point of reference whenever I got lost.  The Galata tower was built by the Genoese colony to protect the city. It used to be called the Christea Turris (Tower of Christ). Today the tower is a Museum where people take selfies and also visit to learn it's history. 
Famous Landmarks in Istanbul*
The Blue (Sultan Ahmet) Mosque, Hagia Sophia Mosque, and Topkapi Palace are the most famous landmarks in Istanbul. One can't simply talk about Istanbul without mentioning them. Each of these places has its own unique and intriguing history.
You can buy a combo ticket at a discount price for all three of these landmarks ($85) P.s. There might be people who approach to buy tickets from them or skip the line so they could be your guide. Don't respond to their request. Most of the time, they have a kiosk by the side and want you to eventually buy from their kiosk.
Topkapi Palace- 30 Turkish Lira ($8); Hagia Sophia- 30 Turkish Lira ($8); Blue mosque- Free
The Topkapi palace has Holy Relics of prophets and companions of the prophets.

If you plan on visiting the mosques, research about the dress codes to enter.
Do
Say hello to the Cats*
During your visit to Istanbul,  you'll see many cats and some dogs. These street animals are accustomed to people treated them kindly so don't feel shy to say hello. 
Climb the Galata tower
One of the ways to oversee the city of Istanbul is to climb up the Galata tower for 20 Turkish lira- $5.26
Secret hidden gem for views
  Source: Katrinka Abroad
There is a secret spot that is free of charge and has the best view for Instagram. The caveat is that its location is hidden to only the locals. If you can find this spot send me a picture of you there!
Walk through Istiklal street*
The busy Istiklal street is a famous street that starts from the Beyoglu area to Taksim square. It's filled with a lot of tourist attractions and street food. On this street, you'll find a mix of hidden gems and tourist traps. It takes doing some research and asking the locals to filter them out.  However, Istiklal street is perfect to explore. Find out more here. 
Watch a Swirling Dervish performance
One of Turkey's oldest Sufi tradition; This performance includes chants, prayers, music and of course, a whirl dance. Although not apparent to tourists, it is a religious ceremony. Tourists either hate it or love it, there usually isn't any in betweens.  The Swirling Dervish lasts for 2 hours. Some places allow you to take pictures and record while others don't. Make sure you find this out before going to the ceremony. 
The Whirling Dervishes took their name from Jelaleddin Rumi (1207-1273)(Istanbul Insider)
Walk around Beyoglu*
Beyoglu is an affluent and hip neighborhood in the European part of Istanbul. It's catered mostly to tourists. Beyoglu is filled with pleasant surprises as you walk through this neighborhood. Make sure to check out Asmalimescit
Explore Asia*
Grab a ferry and take a ride to the Asian side of Istanbul. Seriously, when would you ever get the chance to hop between Europe and Asia in just 1 hour? Ferry ride cost as little as 3 Turkish Lira- $.85. Some notable areas here are Kariköy, Usküdur, and Çengelköy. These parts have fewer tourists, so it's perfect for those who want to immerse themselves with the locals for a bit.
Selfie overlooking the Bosphorus/ 5th of July bridge*
EXPENSE
| | |
| --- | --- |
| Food | $42.88 |
| Transportation | $5.03 |
| Transport Card | $8.40 |
| Mosque | Free |
| TOTAL | $56.31 |
Day 4- 7 Istanbul Itinerary
Eat
Istiklal street filled with Turkish delight shops.*
Istiklal street has almost everything you are looking for in Istanbul. What I love to see is the scrumptious looking Turkish delight stacked in a triangular form in sweet shops. Stop by one of these shops and try them. They are nothing like you've ever had with a wide plethora of flavors.
The Pistaccio and chocolate Turkish delight are to die for.
Restaurants under the Galata bridge enjoy Balik Ekmek (Breakfast)*

Enjoy delicious Fish Bread also known as Balik Ekmek (in Turkish) while gazing at the beautiful Bosphorus sea. One thing to note is that the price isn't fixed. 
Koska– Turkish delight
Koska is a Turkish pastry brand you'll find all throughout Istanbul.  Wherever you are in Istanbul,  type in "Koska" on your google maps and there will be a shop around the corner.
Mado*
Tarihi Kalkanoğlu Pilavcısı (Lunch)
Old Ottoman cafe & restaurant (Dinner)
Address: Prof. Kazım Gürkan Cad, Cağaloğlu Hamam Sk No:17, 34110 Fatih/Istanbul, Turkey
Hours: 12PM– 11PM
Tavanarasi (Lunch)
See
Dolmabahçe Palace*
If you ever had an image of heaven, the Dolmabahçe Palace comes close. It is said to be one of the most glamorous palaces in the world. The last Ottoman Sultan resided there. It was used an administrative center for the rulers. Today it is a Museum. The Good news is that you will get to see all the major the highlights for 40 Turkish Lira ($11). The Bad news is that you can't take any pictures or record videos inside. 
Visit Süleymaniye mosque*
Another stunning mosque you can get to visit for free is the Süleymaniye mosque.  It's located not too far off from the city center.
Visit Rumeli Hisari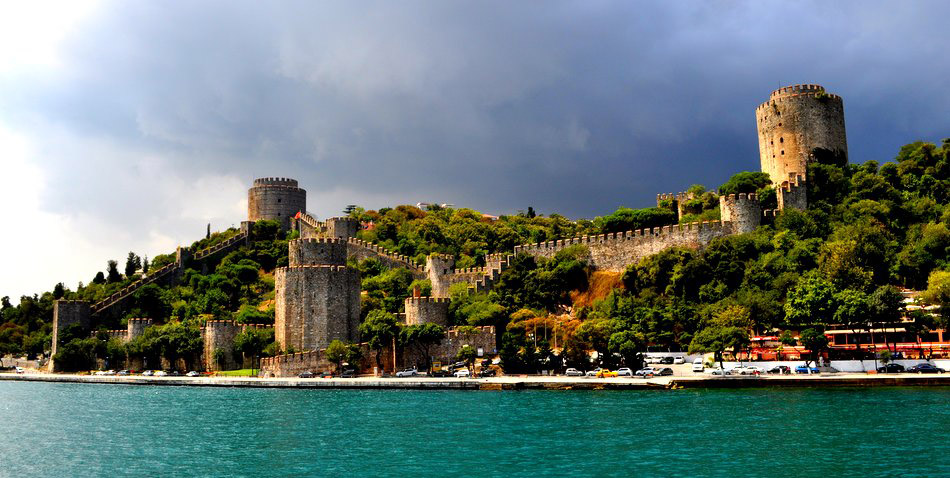 The Rumeli Hisari is an impressive castle located in the European part of Istanbul. It played a role in the fall of Constantinople in 1453 and the end of the Byzantine empire. Check out Peter Sommer Travels to learn more about its history. The best time to visit is during the summer months. Entrance fee to the castle is 3 Turkish Lira ($.85)
Do
Go shopping*
Many people come to Istanbul for the sole purposes of shopping. With over 4000 shops present in Istanbul, it's hard not to see why.  However, the top Bazaars (Shopping centers) are The Grand Bazaar, Egyptian Spice Bazaar, Eminönü, Fatih Çarsamba to mention a few.  Check out Guardian's list of the top 10 Bazaars in Istanbul. 
The shopping centers in Fatih Çarsamba caters to mostly Islamic fashion. Wednesday is the best time to go for discount prices. 
Walk around Kadiköy*
Walk by the sea district of Kadiköy and watch fishermen catch their fishes.
Explore Taksim square*
Check out the popular Taksim square where a lot of activities and events take place. It is considered the heart of modern Istanbul and it connects to major transportation networks. 
Enjoy a Turkish bath* 
Pamper yourself with a Turkish bath. If you want to enjoy the real local experience go to Mihrimah Sultan Hamami in the Fatih district. 
Go to the Princes' Islands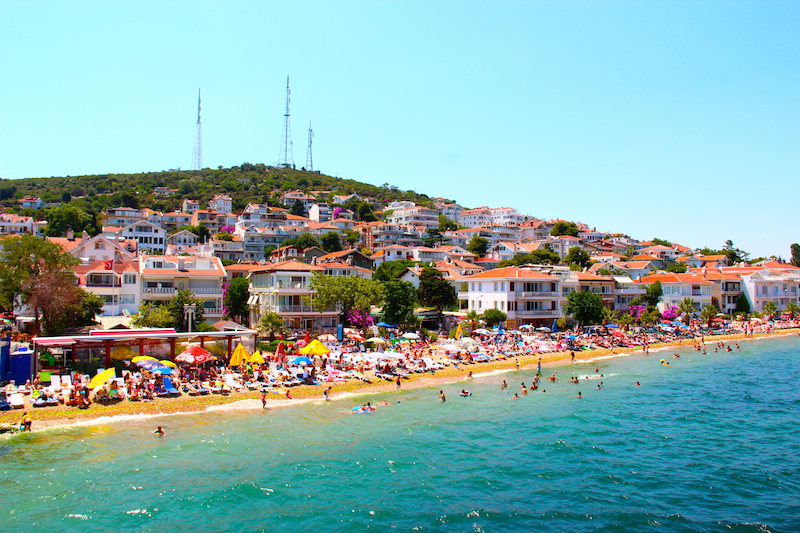 If you visit Istanbul in the summer and you have some time on your hands, try to visit Princes' Islands. It is a group of nine Islands located on the coast of Asian Istanbul. Members of the Byzantine and Ottoman dynasty resided here during their exile. The Princes' Islands remained a remote place until the 19th century when ships arrived there.  On the Island, you'll see elements of a multicultural society in the infrastructures, food etc. It will take you the whole day to explore. See how to get there.
EXPENSE
| | |
| --- | --- |
| Food | $23.90 |
| Transportation | $9.64 |
| Tourist Attraction | $11.20 |
| Hamam | $14.00 |
| Shopping | $56.80 |
| Mosque | Free |
| TOTAL | $115.54 |
7 Day Total: $287. 39 
Helpful Resources
Note
When visiting the Mosques, visit for tourists might be halted temporarily during prayer times.  
When I included $$ for the average price of restaurants and other items, please note that I'm basing that off the Turkish Lira. For example, $$ could mean that the food in a restaurant costs between 40- 100 Turkish Lira which is between $11- $30
In Turkey, no price is set. You can always haggle to reduce the cost. 
If you don't wanna discover Istanbul alone, you can sign up for the following recommended Istanbul Guided Tours

Locally Istanbul: Ran by two Istanbul locals that show you the best-hidden gems their city has to offer. The themes of the tours range from Istanbul nightlife, fashion, food, history etc.

ş

ehir

 Hatlari: offers Bosphorus tours on their cruise. This company is the best and 

chepeast

 way to cruise the sea. 
I hope my Istanbul Itinerary post has inspired you to want to visit this city.  I had a great time there although I visited in the winter. 
like this post? pin it or save it for later!