Toledo is one the cities in Spain that I had to visit for many reasons.  I grew up in Toledo, OH and I was curious to know how life was like in the sister city. Another reason was to relearn history out of the classroom. My Spanish professor talked a lot about Toledo during our lessons and I couldn't wait to see some of the important monuments in person.  Toledo has a rich religious history. It was a city were Muslims, Christians and Jews once lived together in harmony. Visiting Toledo today, you can have a clear picture of the lifestyle in the past. I liked this city so much that I have been there 4 times! Toledo is a small city, so you can see it all in a day or two. Below are some ideas of things to do in Toledo, Spain.
Entrance to Toledo
How to get to Toledo
Many tourists do Toledo day trips from Madrid.  It's very easy to get here. You can either go by:
Cheaper-Bus: Plaza Eliptica (Line 11). Follow the sign that says "Estacion de Autobuses (Bus Station)" and then look for Toledo Direct. The fee is 10 euros round trip. It takes about an hour to get there.

Pricier

– 

Madrid to Toledo Train: This is a

h

igh-speed Train in Atocha. You pay 14 euros and it takes 30 mins to get there.
Secret stairs that leads to the city.
Restaurants in Toledo,Spain
EAT
Cerveceria El Trebol
This restaurant has one of, if not the best vegetarian food in Toledo. It is a must try!
Jacinta and Maria Chocolates
Toledo is best known for its Marzipan, a doughy confection with almonds and honey. Jacinta and Maria Chocolates is said to have the best Marzipan in the world by Trip Advisor users. 
La Abadia 
Patata y olé
What to see in Toledo, Spain
SEE
Mezquita del Cristo del Luz
Address: Calle Cristo de la Luz, 22, 45003 
Hours: Everyday 1 PM – 10:30 PM
Fee: 2 euros
The mosque of Christ the light was once called The mosque of Bab al Mardum. It signifies an important moment from the Moorish era. The mosque was built in 999 in a strategic location close proximity to the gates of the city and the Alcazar of Toledo. It was also located where many wealthy Muslims used to live at that time. A couple of years later after the conquest by Alfonso VI, it was converted to a church.  Today you can still see some remnants of the Moorish era from its Islamic designs and inscriptions.
The Mezquite del Cristo del luz is one of the ten mosques that existed in the city of Toledo
Mezquita del Cristo del Luz
Alcazar de Toledo
Located right on top of the tallest point in Toledo is the Alcazar. Once you get close to the city, the Alcazar almost feels omnipotent. This grand fortress isn't hard to miss. The Alcazar has gone through many architectural changes and uses. It was initially a castle then later transformed into a royal residence for the kings to live in, finally, it became a military barracks. In 1936, the Alcazar was destroyed entirely due to wars and other incidences. It was later rebuilt in 1940. Today, the Alcazar showcases parts of its military history and the other, its royal history.
P.s. Just behind the Alcazar on Calle aflerez provisiona, there is a regional library. Go to the last floor and you will find a hidden cafe with some of the best views in Toledo.  Oh and the view is free. Shhh. Don't let anyone know I sent you.  
View from the secret cafe
Sword Manufacturers
One thing the city of Toledo is known for is its manufacturing of swords and shields. Some of our favorite movies like The Lord of Rings, The Hobbit, Game of Thrones etc get their swords from Toledo.  You can find them in a sword shop like Mariano Zamorano. 
The most perfect sword ever created it was produced in Toledo, and it is known as la Tizona, that belonged to the knight El Cid. Several artisans all over the world have tried to copy it but without success.- Source: expresstoledo.com
The Churches of San Andres and San Roman
These churches were once mosques during the Moorish era. The Cathedral of San Andres is located in the southern part of Toledo. If you are lucky, you can ask to see the mummies hidden down below. What happened was that the San Andres church was built on top of a cemetery. The San Roman church is a stunning church full of colors and it still maintains it's Mihrab. You can climb up to the bell tower and enjoy some more great views of Toledo. 
A Mihrab is a a niche in the wall of a mosque, at the point nearest to Mecca, toward which the congregation faces to pray.

The biggest bell of Spain is in the Cathedral of Toledo. It has an equivalent weight to 4 elephants (almost 17,5 tonne), 10 meters of circumference and 3,65 meters of height. Source: expresstoledo.com
Visit the  Monasterio de San Juan de Los Reyes
Address: Calle de Los Reyes Católicos, 17, 45002 
Hours: Every day 10 AM – 5:45 PM
I usually got free passes or great discounts for tourist activities because of my student card. The Spanish would think that my University of Toledo card was from Toledo, Spain. 
Sinagoga Santa Maria la Blanca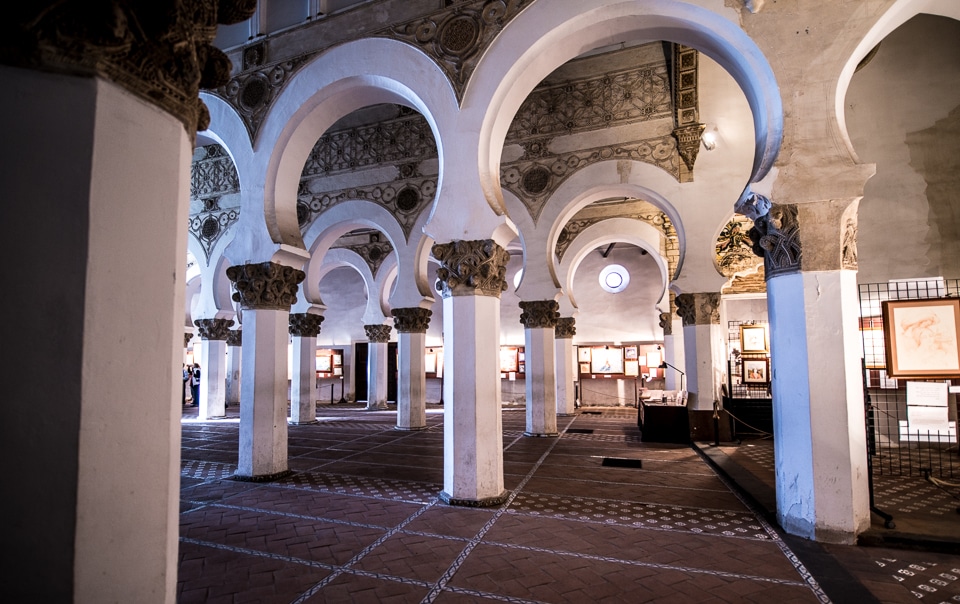 Excerpt: TravelPast50
Located in the Jewish quarters of Toledo, You will find the Santa Maria La Blanca Synagogue. This stunning architecture is from the Mudejar art form which exemplifies elements from the Almohad era. For more information check out this website.
The Synagouge has been disputed to be the oldest standing Synagogue in all of Europe. 
What to do in Toledo, Spain
DO
Zipline
Zipline through one of the longest ziplines in Europe,  with Fly Toledo for just 10 euros.
Walk around town
Toledo is a small town that makes it easy to walk around. I believe this is the best way to immerse yourself and find out other hidden gems. I advise you to walk during the day and another time during the night. Each of these times holds its own specialness.
Las Cuevas de Hercules
Address: Callejon San Gines 3, 45001 
Go underground to the Hercules cave, a vaulted space dating back to the Roman times and learn some interesting history. 
Shop/eat around the Plaza de Zocodover
Plaza de Zocodover is the central spot where locals and tourist hang out. You can shop or eat around there. However, I must warn you that most of the items there are pricey. 
Hike along the Tagus river
I hope you enjoyed this post. If you wanna take a tour and learn about Toledo's religious and cultural history, contact: Felipe by phone +34 661 743 977 or email info@tulaytula.com
like this post? pin it or save it for later!